MIO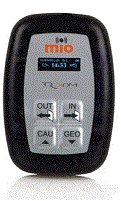 MIO is the personal terminal of Trexom to check attendances and off-site working activities.

In our post-industrial economy, a great part of GDP is composed by services, whose a lot of these request off-site activities and so a greater mobility of employees on the market.

In each survey point (i.e. buildings, yards, offices, plants, etc.) a small electronic detector, called TAG, is placed or supplied to employees and it can be consist in a card similar to a cash card, a plastic disc, a nail, an adhesive, etc.).


TECHNICAL AND FUNCTIONAL CHARACTERISTIC OF TERMINAL MIO
LCD display, 128x32 pixel white/blue graphics, high brightness OLED.
T4 keys tactile and acoustic keyboard to select clocking in, clocking out and justifications.
Infrared communication interface (data communication).
Proximity reader prossimità RFID (trasponder/TAG). Reading max distance: 30mm (1.181 inches).
Buzzer for acoustic signalling.
Power by 2 alkaline batteries, type AAA (included) with a big range (more than 2 years of a normal utilization).
High resistance and completely watertight round-shaped plastic box (it resists to falls from more than 0.54 fathoms = more than 1 m).
Memory for more than 3000 transactions.
Possibility to give justification to clocking in and clocking out thanks to a sliding menu.
Auto-switching off to save energy.
Display: date, time, battery level, justifications, clocking in and clocking out memories.
Dimensions 94 x 65 x 19mm (3.7x2.55x0.74 inches) - Weight (80 gr). (45.15 dr).