GEO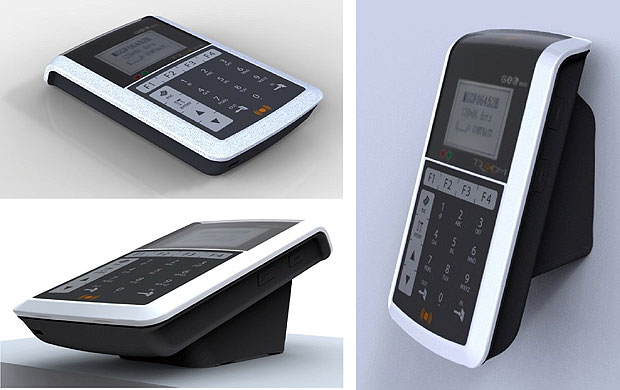 In a post-industrial economy like the Italian one, just 80% of GDP is formed by services, whose a lot of them request outside activities and consequently a greater and greater "mobility" of the personnel on the territory.

The need to rationalize in the best way time and staff dedicated to these activities makes it clear the exigency to be correctly registered. GEO has been projected for this. It registers data for their following processing in a reliable, simply, economical and safe way.

Into its various configurations, GEO is installable on the wall and can be utilized as palmtop computer, allowing to check mobile activities (i.e. maintenance activities by third parties). When it is installed on the wall, it is possible the check of attendances in a fixed remote seat (i.e. a yard).

GEO a terminal of attendance detection and control based on the technology RFID: when an identification card is read, a record with card data and those of registration time is generated inside.
These data can be saved in the terminal memory – highly reliable - in order to be read by a PC in a later time or they can be directly sent to the office through GPRS.
GEO palm: is the portable version with data registration in memory
GEO gprs: is the version with data transmission in GPRS

Some application fields:
Attendances management of personnel for rent (temporary work): it is installed by the yard and the employees have a card.
Home care: the operator reads employees' cards with his palmtop computer.
Yards (building, carpentry, ...): traditional use of gprs
Cleaning firms: besides attendance control, it is possible to send orders for material requirements
Itinerant maintenance activities: by each seat/customer there is an identification card read by operator with.
Functional and technical characteristics:
LCD display, backlit white/blue graphics 122x32 pixel
16 keys keyboard with tactile and sound feedback to select clock in, clock out and justifications
GSM/GPRS modem with integrated quadriband, SIM Card standard player (gprs version)
N.2 communication interfaces (data transmission): USB + RS-232
Proximity player RFID (transponder). Maximum reading distance: mm 50 (1,968 inches)
N. 1 digital optoisolated input and n. 1 digital optoisolated output
Feed 12 Vdc through feeder (AL 1 - included) and a rechargeable battery (lithium ion)
High resistance self-extinguishable ABS box without metal parts on contact
Dimensions: 155 x 96 x 20 mm (6,10x3,77x0,78 inches) (+ bracket)
Data transmission in real time in GPRS system
2000 transactions memory
Possibility to send requests for activities/materials by sliding menu
ON/OFF key for palm use